All the mammals – and some birds too...
A couple of weeks ago, I was lent the trail camera by the Oxford Small Mammals group, in order to identify, once and for all, what has been eating my daily offering of hedgehog food. It's easy to set up and takes a video or still photos when triggered by any movement.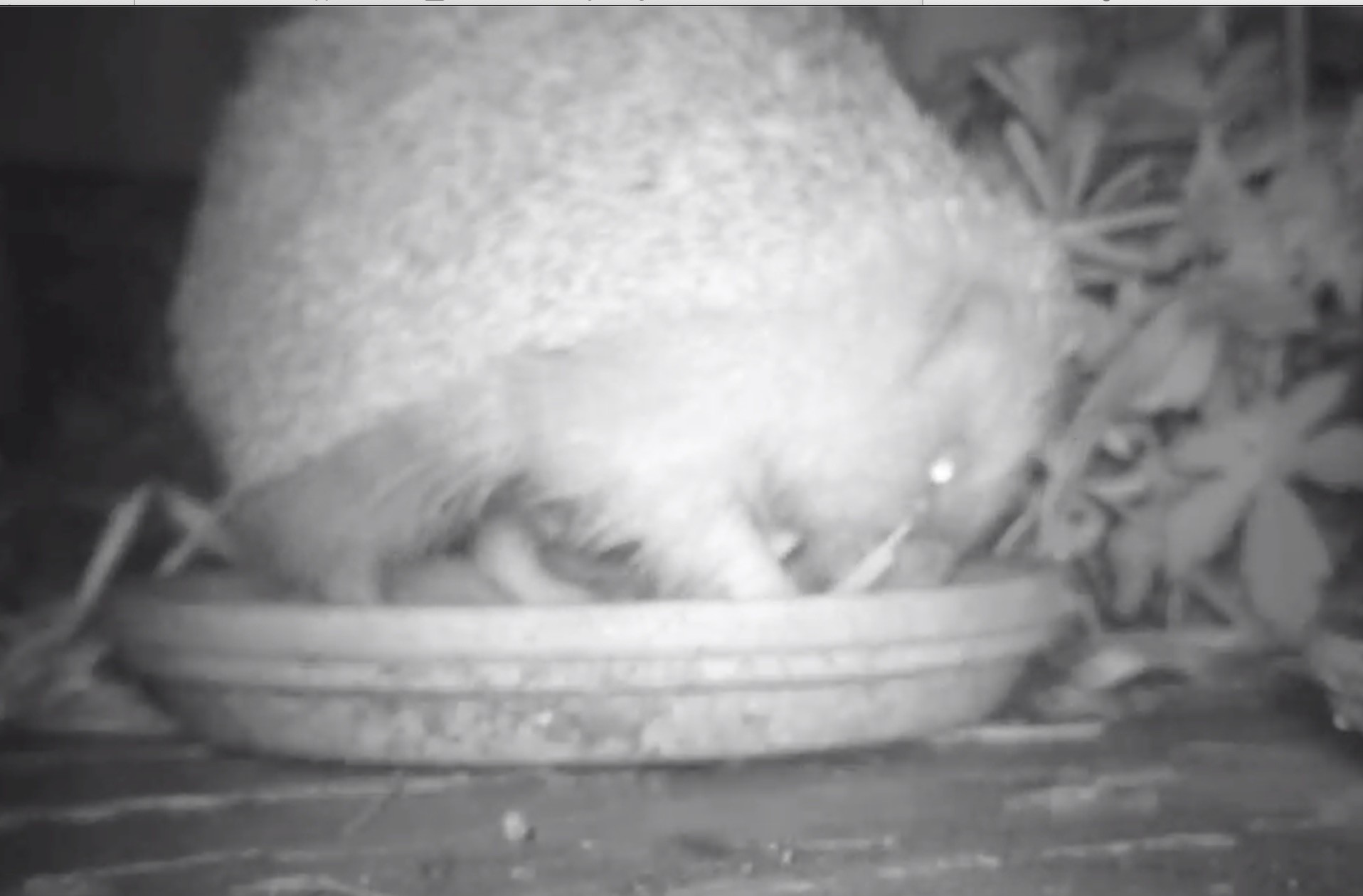 Some four years ago, I realised that the only hedgehog I had seen in Eynsham was, sadly, flat as a pancake on the Witney Road. And then at coming-out-of-the-pub time on a balmy Saturday evening, I saw a live one, in sports mode, running down Acre End Street. If you have never seen a hedgehog running, trust me, they are surprisingly speedy and have long, slim and rather elegant legs hidden under all those spikey skirts.
This one was a shapeshifter as well. It reached a gate on the right with the tiniest gap under it and instantly flattened, squeezed under, and disappeared. Armed with the knowledge that there were still very much alive hedgehogs about, I borrowed a friend's jigsaw and cut a CD sized hole in the fence between my garden and a thin stretch of unused land, which has become a bit of a natural nature reserve.
Sure enough, the slugs and snails in my garden soon disappeared and going out at dusk, we could hear the snufflings and surprisingly vigorous rootlings about of a hedgehog. We saw one regularly that summer, and my neighbour reported finding its poop on his lawn.
Things escalated hedgehog-wise when my daughter spent a good half hour, past midnight, escorting a hedgehog across the Witney Road in the pitch black, risking her own life and limb and waving off cars. I registered the hedgehog activity with the nationwide campaign Hedgehog Street and asked the Parish Council if we could have 'hedgehog about' signs along the stretch where the hogs seem to want to cross the road, but apparently you need full planning permission to put a sign up.
Instead, I decided to create a des. res. for the hedgehog we had. A sturdy wooden hedgehog house was bought and placed next to the hedgehog hole and filled with hay. Food and water went out each night.
During the winter, it was hard to tell if something was hibernating in the house or not, but sadly, the first sign of Spring was the bloody, round remains of what had been a fat and healthy hedgehog on the Witney Road. This poor creature had leapt from its long slumber and wandered out under a car.
In late April, I eventually opened my hedgehog box to clean it out and there was a definite hedgehog shaped outline in the hay but nothing had over-wintered in there apart from an enormous spider, which was jealously guarding its eggs.
The food and water continued to disappear but I hadn't seen or heard any signs of a hedgehog for some months, and so getting hold of the camera was really helpful. And, success! Our first night of filming provided these clips of a young, male hedgehog and quite a bit of mouse action.
See Directors Cut:
https://drive.google.com/file/d/1cEJcwnHVh9VV8plnWuaF-1mV5eKh2pFG/view?usp=sharing
https://drive.google.com/file/d/1Ug-es0IVxMwdZv6dW5VgxzLBzItrLHze/view?usp=sharing
https://drive.google.com/file/d/1vDpBSq48Z-HnBPylmC0cioG6YBs2cd8q/view?usp=sharing
I have a strong suspicion that I am mostly feeding a mouse and its entire family, to be honest, as a week's worth of filming produced sightings of, in order, one hedgehog, quite a few mice, one cat (black and white and clearly after the mice), one magpie (ditto) and one pigeon.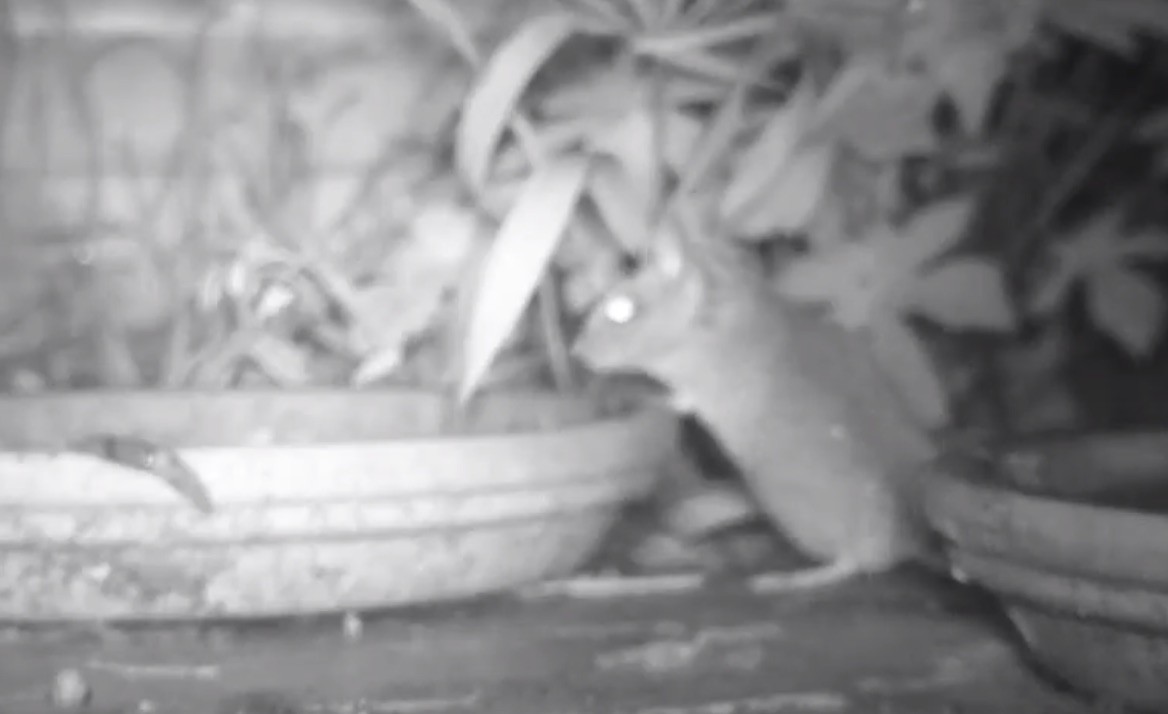 We are now so very lucky to have Eynsham's hedgehog highways' group determined to construct an Eynsham-wide hedgehog highway. I have their 'watch out for hedgehogs' sign stuck to my bin and continue to feed top of the range Spike's Dinner hedgehog food (you can get it at the Evenlode DIY – of course) to whatever turns up in the garden, or house whatever needs shelter.
Beverly Chandler